The Hack – Create Success Milestones for Your Users
AARRR stage – Retention
Growth Problem – How to Ensure a Smooth Onboarding Process
Haxplanation:
Value. It's what you provide to your customers. It's the reason they subscribe to your app. It's the reason you're in business. To provide value.
But at what stage of your onboarding process is this value delivered to your user? Don't worry if you can't definitively answer this question. Most startups can't. But you should be able to and here's why: unless you know when that value was experienced by your user, how do you know when your onboarding process ends?
And here's the deal – we're not referring to 'onboarding' in the sense of getting your user from 'A to B' as in showing them what's 'under the hood' of your app. We're referring to the moment when they get a tangible benefit out of it.
Also, don't confuse your user's definition of success with your own: a user becoming a paid customer presents value to you not to them!
The Benefits of Customer Onboarding
Skillfully managing onboarding is good for your team and your customer. First and foremost it reduces churn by enhancing customer satisfaction as it increases revenue. Well-organized and documented customer onboarding also generates greater employee satisfaction because it makes interactions less stressful and more productive with more-effective ways to collaborate across functions and levels for practical gains throughout the organization.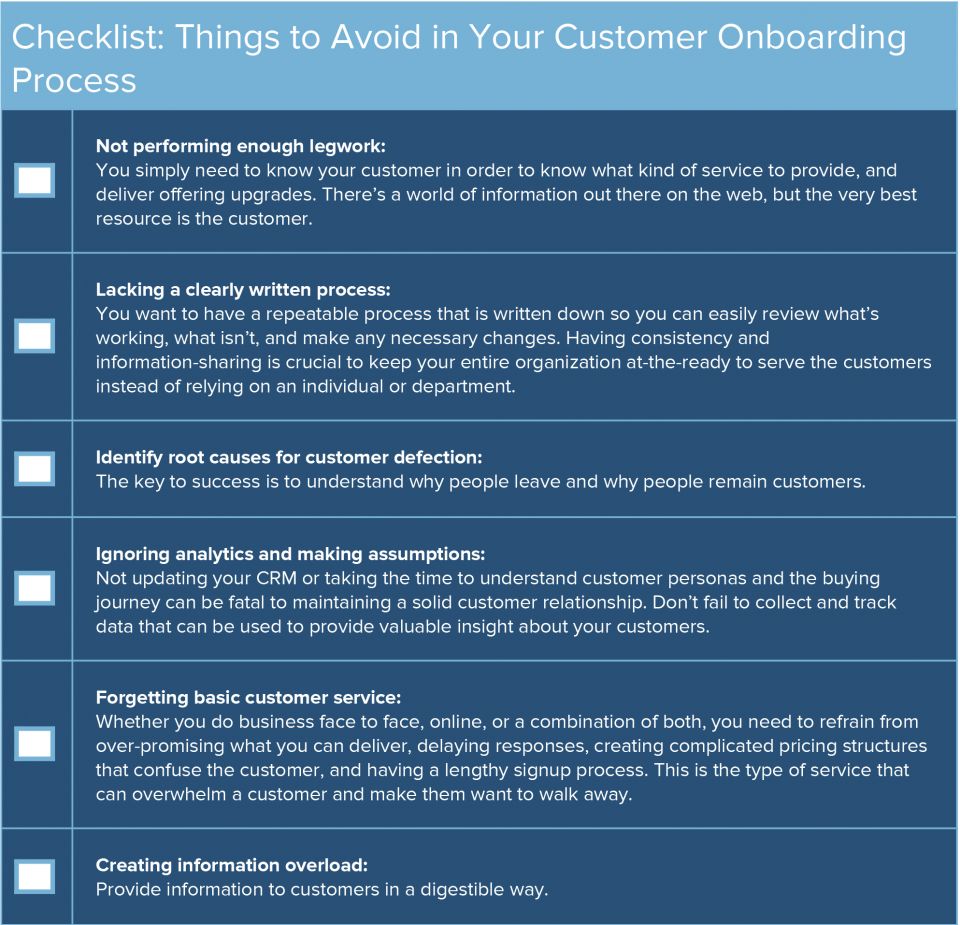 Customer Onboarding Best Practices From The Experts
Source Capital Funding's Ferrandi said, "We take great pride in customer service and believe in being open, direct and transparent with all of our clients. Solid communication is paramount to a successful transaction." He offered a wealth of suggestions he's used for onboarding that he's learned in the last twelve years:
Use your first meeting to create a custom checklist "Every client and industry is different and it is important to create a checklist for each new client after an initial exploratory meeting. Consider this meeting as a massive Q&A where the extent of the client's knowledge on your system is revealed. Sometimes your clients will have a strong understanding of how your system works and sometimes they will have very little experience. Do not waste time working on a checklist until after you carry out this exploratory meeting."
Take it personally "It's the simple things you find out interacting with customers during the ongoing process that can make all the difference to their success and yours. A great real-life example is a project we had with a client working on a property in Palm Springs. Our initial onboarding meeting let us know that the client needed our services in less than a week. Because of this meeting, we were able to expedite the entire onboarding process and put together a full checklist and schedule of our clients' needs. We were able to work around our clients schedule and get the project completed on time. Without this initial onboarding meeting, we would not have been able to acquire all of the necessary information and stakeholders' schedules so quickly."
Be honest "The biggest item people forget to put on their checklists is the process of overcoming roadblocks or issues with the service or product. There is always a point person to reach out to, but too often people forget to explain how these pain-points can be relieved because they do not want to admit that mistakes sometimes occur. Being honest and open is the best way to start any business relationship."
Avoid overload "The most important strategy is to avoid providing your client with information that they are responsible for reading and understanding without your help. Too often do we see extremely detailed and well put together process documentation that goes to waste because a client does not read it and comes to a meeting asking how to accomplish certain things. We love process documentation at Source Capital Funding, but be sure to include it as part of the in-meeting onboarding process or as a web-based tutorial system. Present everything ahead of time and then give a detailed report that the client can refer to if he or she has any questions."
Make it easy and casual "One of the best ways to ensure a smooth onboarding process is to invite the client for a lunch meeting and go over any necessary documents in-person. Providing food is a great way to make the client feel like he or she is not wasting time in the middle of the work day and also allows for more stakeholders to be present without the meeting feeling too formal. Be sure to have a set agenda for the meeting with a clear leader or else the lunch portion of the meeting may overshadow the onboarding process."
Be available when it makes sense for customers "Much like professors have 'office hours' for their students, a great onboarding tactic is to provide available times that your client can call on you with any questions or concerns. Not only does this eliminate the waiting period between emails, it also shows the client how dedicated you are to their needs. Your team should be available to respond to emails and calls as needed. This tip is also an excellent way for teams with several clients to organize client time. Furthermore, if your process has a lot of paperwork or materials that the client needs to read, these office hours will reduce the need for long in-person meetings."
Successful Startup 101's Naylor had two valuable best practice suggestions for startups that she thinks are fundamental to smooth onboarding:
Keep it short and simple "It's important that my onboarding checklist includes everything I need to ensure a fruitful working relationship, but that it is also brief enough that the process won't stretch my client's patience."
Feel the churn "Churn occurs when you lose customers or clients because they are dissatisfied with your products or services. So it's really important that you first understand the major causes of churn (wrong features, not enough features, high prices, difficulty in using product or service, lack of value), and build safeguards into your onboarding strategy to reduce churn."
Customer Onboarding Welcome Email Template
One of the ways most companies stay in touch with customers is via email. Here's a template that can work for most products and services to welcome newly onboarded customers:
Greeting:
Make it casual and personalize with the first name. 
Paragraph 1:
Welcome and thank the customer for joining you.
Describe your company, your mission, and how you help the customer succeed.
Paragraph 2:
Describe what the customer should do next to set them up for success.
Provide a useful tip.
Link them to a landing/getting started page with a CTA/download.
Paragraph 3:
Offer to answer questions or provide help.
Provide a link or explain the best method to do so.
Closing:
Make it friendly, brief, and personal.
Add contact or team name
Once you've gotten off to a good start, keep the communication going by getting feedback to help you improve your relationships and onboarding process.
Examples In Action
Effective onboarding takes the customer through a strategic voyage. It ensures that every new member possesses the knowledge and habits to hit specific objectives. Without a clear roadmap, churn will rise and have a negative impact on your revenue.
Asana offers an easy sign up, asking only for your email address. Effortless, right?
Then, the project management company welcomes new users with a short video. This helps customers get acquainted with their recent purchase.
With 
CoSchedule
, customers are presented with tips and updates from their team. It includes the employee's picture along with text and video.
To make the process efficient, customers are asked to connect their social media profiles to save time when scheduling updates.
Your team also can create an onboarding email campaign.
The messages should be tailored to the user's actions with your service. This "Hook Cycle" will lead customers through a series of communications that will increase product usage and brand loyalty.
Retain more customers by immediately engaging them with your product. A straightforward approach will make the transition smoother.
A Thought Experiment: The Online Store Builder
Let's say you have an e-commerce store builder, what does initial success look like for your customer?
The first time they sell an item? Sure… we'll go with that.
What are the things the need to do to achieve success?
Customer-Centric Success Milestones:
Decide to open an online store <== the required step 0
Create the Store
Make the store their own
Figure out how to get paid
Stock the virtual shelves
Get feedback on the design
Open for Business
Get customers? (
Make their First Sale! <== success (at least at first)
If mapped out in Trello, it would look like the above.
What might that look like in the product?
Sign-up for the Trial <== the required step 0
Create the Store
Customize the Store <== The "Wow!" moment is here maybe
Setup Payment Method <== gotta get paid!
Add & Configure Items
Soft-launch Store w/ Friends and Family
Incorporate Feedback and Refactor
Publish Store and Promote
Their First Sale! <== this is actual success, right?
Below is what it would look like if mapped out in Trello
Whether that's the right set of success milestones for an e-commerce store builder isn't the point, but I got there by saying "what would success look like for my customer?" and backing out from there to meet them where they are at first.
Like I said earlier, don't guess about what "success" is for your customers. If you don't know, ask them.
In the early days, this is where Customer Development work really pays off. But, if you're in-market and looking to optimize, this is where leveraging the expertise, experience, and knowledge of your Customer Success Management software (or your Customer Success Managers) and/or continually doing new Customer Development really comes into play.
Just Hack It:
There's no deeply scientific methodology here. Not even a formula that you need to memorize. Just an answer to a simple question will do the trick:

Ask your different customers the following: "how do you measure success and what would they like to achieve by using my app?"

That's it, it's that easy. The answers will vary based on their user persona and you should pay attention to each answer very, very carefully. You're aiming for quality here, not quantity
Remember, you want to uncover the 'blue sky' solution to their problem, the one that no one else has unearthed yet
After meditating on the chicken-scribbles in your Moleskine, choose the ones that best apply (or that you can decipher) to your app and turn them into success milestones for your onboarding process
Sounds so simple but all too many startups get this part wrong
But you're not one of them anymore. Enjoy the accolades – the M&M's are on us!